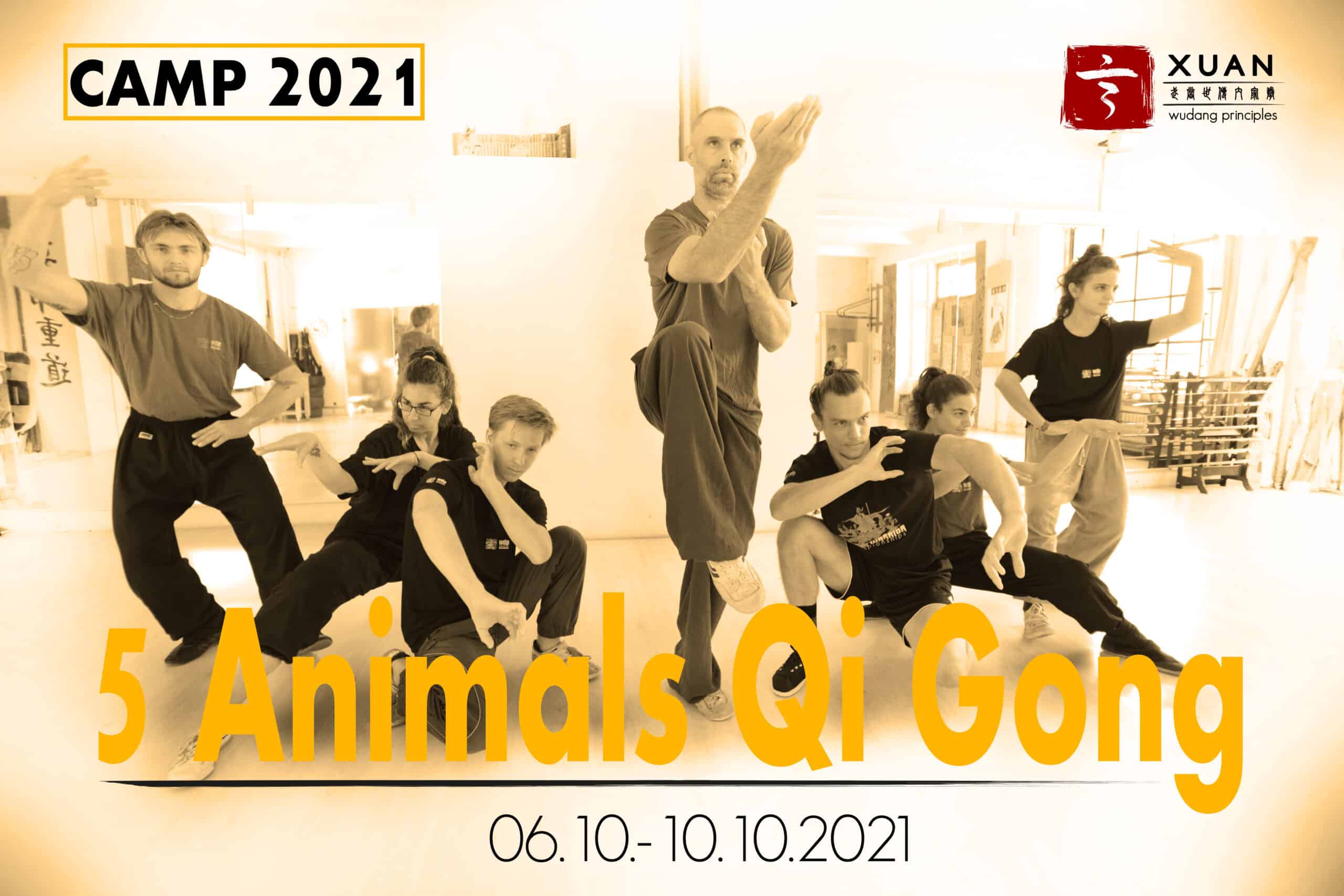 Description
Get ready for the 5 Animals! Train with us for 5 days the fundamentals of the 5 Animals! The 5 Animal Qi Gong System is one of the most complete and full Gong Fu practices I ever learned. It brings, on one hand, all other Basic Qi Gong practices onto the next level, while at the same time setting the basics for all inner martial art styles.  Being a complete system by itself it compresses endless richness into 5 basic ways of movement. Being rich and minimalistic at the same time, makes it possible to join for beginners as well as interesting for advanced students.
Topics:
5 Animal Basic Motions
5 Animal Shen Fa
5 Animals Skill Training
5 Animals Application
When:
06.10.2021 -10.10.2021
Where:
Berlin Xuan Gong Fu Academy
Teacher:
Stefan Müller (Head Coach of Xuan Gong Fu Academy and WDP Berlin)
LATEST NEWS (MAIL)
Hello 5 Animal friends! 😉
the 5 Animal Camp is coming close and we are getting ready to meet all of you soon to have a some great training together. Since the covid-19 regulations are allowing us to hold the camp, we can now finally get more set for our meeting.
TRAINING TIMES:
We will start our camp on Wednesday 06.10.2021 at 9:00 and finish on Sunday around 15:00 o clock. For a closer look on our training times I made a small schedule that gives you an basic overview. Different as at the camps before we will train only during the daytime. Since we plan to hold all our sessions outside,  it is beneficial to practice mainly in day light circumstances.
TRAINING PLACE:
The main training spot will be in the park at the following location: https://goo.gl/maps/BPuvyRydy3kgGczs6  / Students that practiced with us already will know this place very well. Nevertheless, will we meet for our first Camp introduction at the school at the Berliner Straße 46 10713. While we will  hold all training sessions outside, I still want to use our training hall for the introduction and theory parts of the camp. Since the noise situation is outside less fitting, the quietness of our training hall is giving us a better frame for good talks.
COVID SITUATION:
To keep our training frame as safe and convenient as possible we want to hold all of our training sessions outside. Therefore it will be important that you come to every session in suiting clothes. I highly recommend bringing good shoes, a rain jacket and rain trousers. Only in more extreme weather situations, we will consider shifting our training to the inside. To have also always the option to go inside it is important that you bring either a vaccination prove or a negative rapid test result. (Meetings inside are only allowed under these circumstances, according to the latest covid 19 rules in Berlin). Whenever you go into the school we ask you also to wear an ffp2 mask, and only to take it off in case we will train in the hall. (Students that sleepover at the school can take the mask off when the main camp training times are over and the place is less crowded again).
Be also aware that the camp will contain partner exercises. Here we plan to make small groups, with 4 students in each group, in order to offer rotation with different partners while at the same time not being with more than 3 students in closer contact during the whole camp period.
PAYMENT:
If you haven't transferred the camp fee yet, it would be great to do that in the coming days. In case you want to bring the money in cash please contact me ahead of the camp. The bank account for the transfer is listed below:
Stefan Müller IBAN: DE92 8306 5408 0004 9107 61 BLZ: 830 654 08
If you have any other questions please feel free to contact me anytime! I am looking forward to meeting you all very soon and diving deep with you into the very special  5 Animals Qi Gong of our Gong Fu.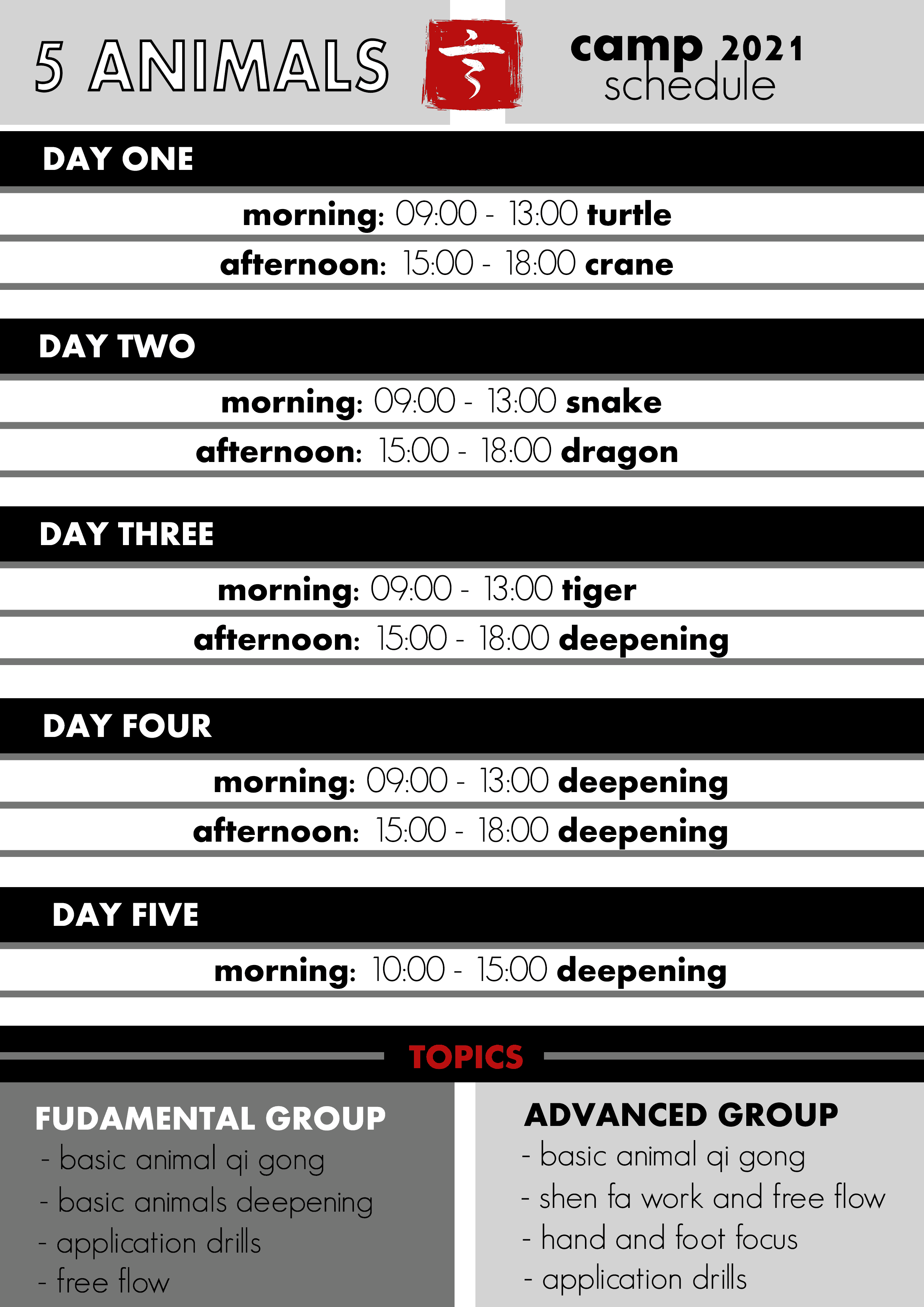 Date/Time
Date(s) - 06/10/2021 - 10/10/2021
0:00
Bookings