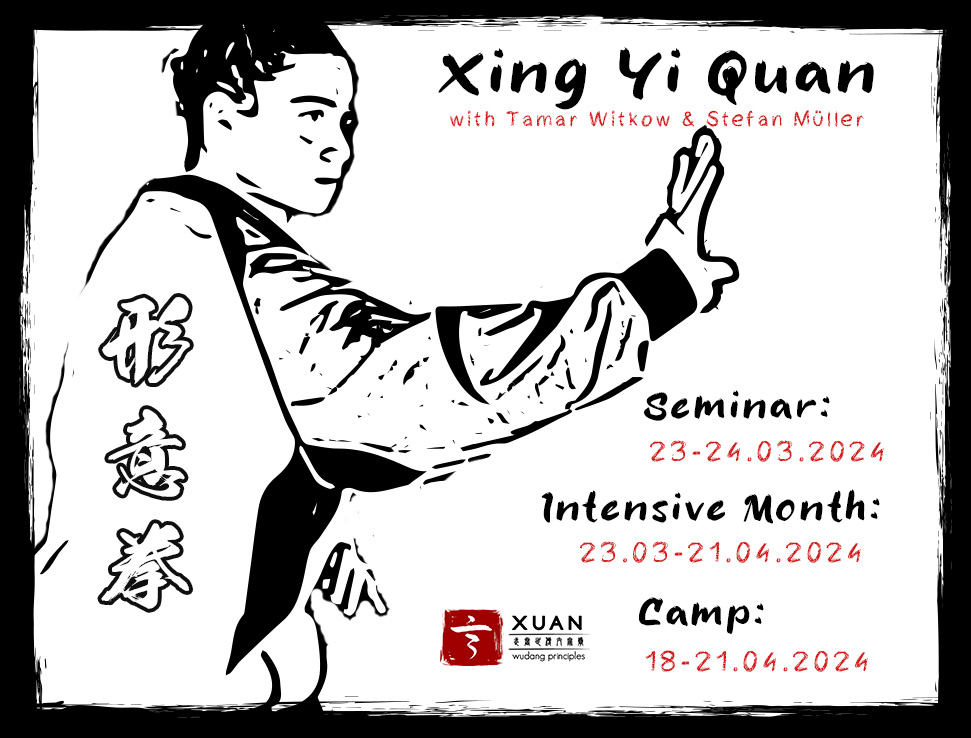 Description
It is time for Xing Yi Quan! This year we start with a series of Xing Yi events! Learning and deepening the basics of Xing Yi Quan like the 5 Element Fists as well as more advanced practices like the 10 Animal Shapes.
Join our two day Xing Qi Quan Basic Seminar,  our four days Xing Yi Camp, or simply stay a month joining Seminar and Camp while intesiving your Xing Yi practice in an other full month of full-time Xing Yi focus at the academy in Berlin.
Xing Yi Basic Seminar:
Xing Yi Quan is famous for its powerful and direct motions. Delve into the heart of Xing Yi Quan with a focused exploration of the Five Element Fist. Unlock the secrets of Wood, Fire, Earth, Metal, and Water
TOPICS:
Basic Standing Method – Three Bodies Standing
Basic Stepping Method – Enter Step and Passing Through Step
5 Element Fists – Metal – Wood  – Water – Fire – Earth
WHEN:
23-24.03.2024
The Seminar starts Saturday at 10:00 and ends Sunday around 17:00.
WHO CAN JOIN:
Open to all Levels! Very suitable for beginners to start Xing Yi Quan
TEACHER:
Tamar Witkow
Tamar is a long-term student and instructor under Stefan Müller. With a lifelong dance background, Tamar has not only continued but also deepened her research in movement for four years within our full-time, eight-hour framework. During that time she specialized in Styles like Xing Yi Quan and Tai Yi Zhang.
WHERE:
Xuan Gong Fu Academy Berlin
PRICE:
100 € / Two Days
Xing Yi 10 Animals Camp:
In our Xing Yi Camp, we will dedicate ourselves to the more advanced practices of Xing Yi Quan. In Xing Yi Quan, students learn to adapt and imitate different forms of movement and power generation. Playing a fundamental role in this process of shape-shifting are the 10 Animals Practice of Xing Yi Quan.
TOPICS:
Advanced Power Creation Practice – Mastery of Hip and Knee Chain
10 Animals Practice
Application Examples
WHEN:
18- 21.04.2024
The Seminar starts Thursday at 10:00 and ends Sunday around 16:00.
WHO CAN JOIN:
Xing Yi Foundation Required – Standing – Stepping – 5 Element Fists
TEACHER:
Stefan Müller 
Head Teacher of Xuan Gong Fu Academy
WHERE:
Xuan Gong Fu Academy Berlin
PRICE:
200 € / 4 days
Xing Yi Intensive Month:
Join us for one month full-time training focusing entirely on the practice of Xing Yi Quan.
Seminar and Camp are included.
WHEN:
23.03- 21.04.2024
Month is starting with the Basic Seminar and ends with the Advanced Camp
PRICE:
550 € / Seminar + Camp + 1 Month Full-time (accommodation included)
Date/Time
Date(s) - 23/03/2024 - 21/04/2024
0:00
Bookings