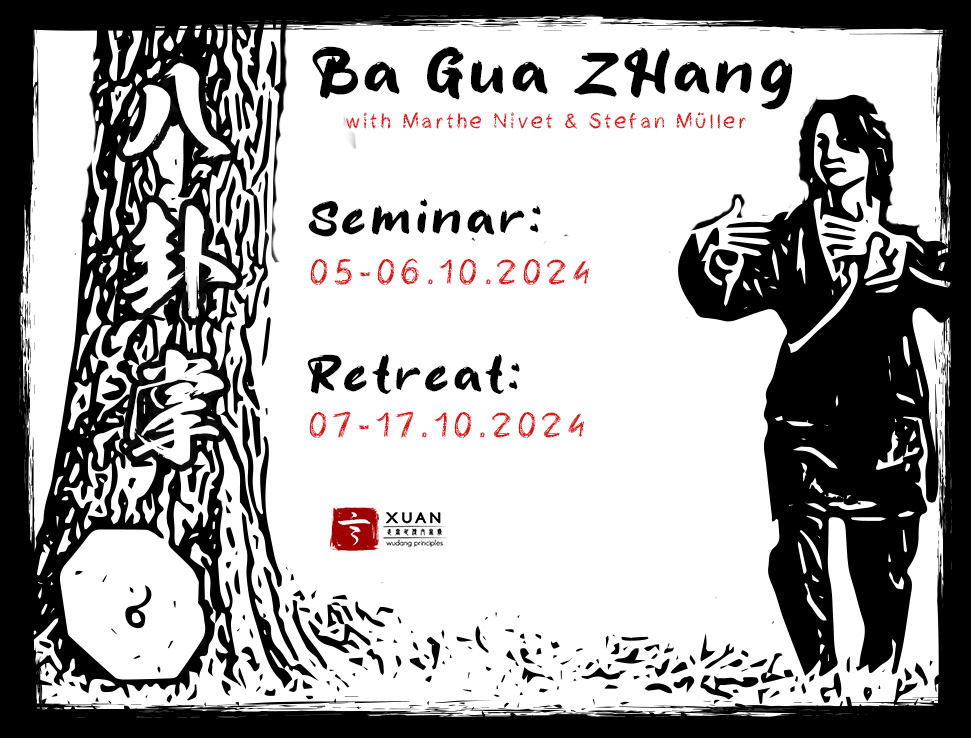 Description
This year we enter into a Qi Gong-focused phase with our Ba Gua Zhang Practice. This is the perfect time to start with us or deepen the inner practice of Ba Gua Zhang!
Join our two day Ba Gua Qi Gong Seminar, our two weeks Ba Gua Retreat, or simply both together!
Ba Gua Qi Gong Seminar:
Learn in two days all 8 Qi Gong Palms (Lao Ba Zhang) of our Wudang Principles Ba Gua Zhang System. It is said that the 8 old Qi Gong Palms were the original practice transmitted by Dong Hai Chuan (the founder of Ba Gua Zhang). This practice was a walking-focused inner practice that later on made Ba Gua Zhang become the martial art it is today. With their slow motion, a very specific walking practice, and twisting and stretching motions it becomes the perfect body preparation and build-up in an internal energetical but also especially external physical level.
TOPICS:
8 Qi Gong Palms
Basic Mud Step Circle Walking Meditation
Basic Ba Gua Standing Qi Gong Practice
WHEN:
05-06.10.2024
The Seminar starts Saturday at 10:00 and ends Sunday around 17:00.
WHO CAN JOIN:
Open to all Levels! Very suitable for beginners to start Ba Gua Zhang
TEACHER:
Marthe Nivet
Marthe is a long-term student and instructor under Stefan Müller. Practicing for 4 years in a full-time 8 hours frame, while investing most of her attention into the art of Ba Gua Zhang, Marthe offers a profound understanding of the inner Martial Arts and especially Ba Gua Zhang.
WHERE:
Xuan Gong Fu Academy Berlin
PRICE:
100 € / Two Days
Ba Gua Qi Gong Retreat:
In 10 days of practice, we will dedicate ourselves in a full-time frame (8 hours a day) to the Qi Gong practice of Ba Gua Zhang. We will invest the majority of practice into the Ba Gua specific walking meditation practices. With every step more quietness can be established and with that an inner journey of exploration be started.
Get quiet with us, fast with us in a specific Taoist Diet Program and walk with us in endless circles.
More information will follow.
TOPICS:
Basic Mud Step Circle Walking Meditation
Basic Ba Gua Standing Qi Gong Practice
8 Qi Gong Palms
Fasting Diet (No Grain, No Sugar, No Meat – Instead, basic fresh food like fruits and vegetables)
Silent times (No speaking, No Media)
WHEN:
07 – 17.10.2024
The retreat will start Monday 07.10. at 10:00
WHO CAN JOIN:
This kind of retreat is more difficult than other seminars. Since the practice times are very long and certain restrictions (food, media) are added into the program. Yet still, all levels are welcome!
TEACHER:
Stefan Müller 
Head Teacher of Xuan Gong Fu Academy
WHERE:
Xuan Gong Fu Academy Berlin
PRICE:
250 € / 9 days
Date/Time
Date(s) - 05/10/2024 - 17/10/2024
0:00
Bookings